PWR Memberships are a small group coaching membership. The membership enables us to offer personalised training at a more affordable price for you. Based on a CrossFit Box model but individualised to your needs as well as utilising safer exercise modalities and a more user friendly approach but with all the effectiveness of private coaching.
PWR, pronounced POWER but stands for Proper Workout Routine is a daily workout designed to achieve ultimate fitness and body composition. Similar to a CrossFit WOD but more suitable for everyone and incorporates much lower risk of injury and actually prevent injuries. PWR combines all training modalities into a properly periodised monthly training routine.
Our private coaching memberships are extremely cost effective and highly motivational. Make your training fun with one of our PWR Memberships…
OUR PROGRAMMING
The programme is second to none. We make the membership specific to your needs while creating an awesome and extremely supportive group. The PWR sessions allow for all levels, catering for beginner to advanced levels, so you will not be thrown in at the deep end when you arrive for your workout! Our programming is constantly evolving to get you the best results.
FACILITY
Body Expert Studio is not a gym… we are a specialised functional fitness and fat loss private coaching space. With over 22 years of experience – we know what works. We have great facilities, trainers, and equipment as well as incorporate the best body weight movement programmes making it easier for you to reach your goals. Whatever level you are at, our range of prices and packages are sure to feature something that works for you.
COMMUNITY
We pride ourselves on building a supportive and fun community. You are not just joining a premium fitness studio. Our team events and nights out are not to be missed and you will find yourself with a new social and support network that will help you on your continued path to greater health and happiness.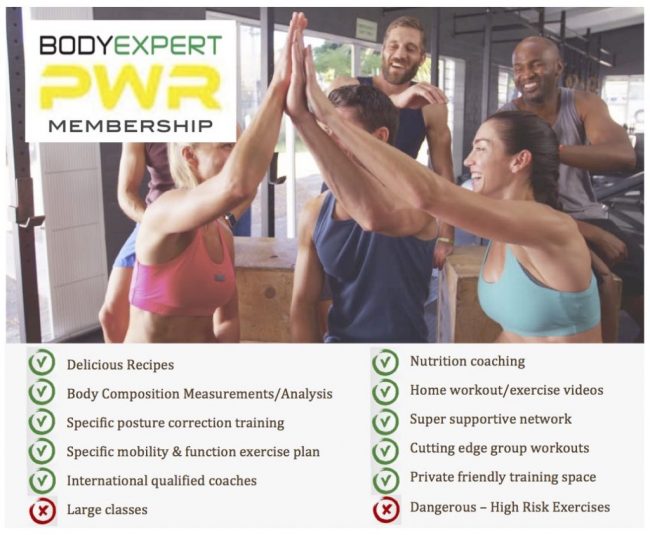 Personal Coaching Membership Outline:
Our monthly coaching memberships start from as little as $200USD per month… All memberships are completely customised to your wants and needs.
PROVEN PACK:
$200 per month (3 month minimum)
12 PWR workouts per month and group nutrition coaching
Basic body composition measurements and tracking including use of our smart phone training App
Includes membership to our online coaching and support community
Only 10 memberships available. This ensures you get the attention you deserve!
Affordable Private Coaching: for the cost of 1 personal training session you get 3 sessions per week of specific coaching = only $16 per session plus great nutrition counselling
RESULTS BOX:
$400 per month (3 month minimum)
12 PWR workouts and group nutrition coaching per month
Basic body composition measurements and tracking including use of our smart phone training App
4 classes
4 Personal Training sessions
Includes membership to our online coaching and support community
Only 10 memberships available
ULTIMATE BUNDLE:
$700 per month
8 Personal Training sessions per month
Unlimited Classes
Unlimited PWR workouts
Personalised nutrition coaching
Comprehensive and full body composition testing, monitoring and reviews
Includes membership to our online coaching and support community
Only 6 memberships available
Annual upfront payment $550 per month ($6,600 upfront payment)
To provide the level of service and coaching effectiveness we desire, memberships are limited. All workouts must be booked in advance with your coach.
MEMBERSHIP HOURS:
Everyday (except Sunday): booking is essential and must be made with the trainer. This ensures you receive the best service possible and optimises the effectiveness for obtaining your goals.
PWR Memberships include customised posture, mobility and movement exercise with a workout of the day schedule.
Memberships incorporate:

Posture Assessment & Corrective Plan
Basic Body Composition Testing & Review
Nutrition Coaching (via private Facebook group)
Membership to BE-Lean Online –exclusive restricted content at bodyexpertsystems.com (workouts, recipes, exercises, challenges, tips, events, etc)

Join a community of likeminded people committed to and supportive of positive life change
These memberships provide a range of options suited to your schedule, availability, and ultimate fitness goals. All this for a fraction of the cost of One-2-One private training but with the same knowledge transfer and coaching service
WHAT MEMBERSHIP INCLUDES:
Nutrition Coaching:
Your lifestyle and nutrition habits are key to optimising your results, as these have the biggest impact on fat loss, sustainable energy, health and recovery from exercise.We provide the principles, recipes and examples for all members. Advice is delivered through group channels and discussed individually during class times. The Ultimate Bundle incorporates specific, specialised nutrition advice and programming.
PWR:
As mentioned previously PWR is correctly designed using scientific training principles. Unlike many CrossFit workouts you will not be pushed to the point of exhaustion and then demanded to perform high risk technically difficult or power based exercises… this is ineffective for improving performance and just plain dangerous! PWR workouts are designed to elicit the best performance and fat loss results.
The PWR sessions have a maximum of 8 people, so the sessions are focused on the specific goals of the participants and allow us to provide better individual coaching experience.
The best workout you'll ever have! Workouts combine elements of cardio, strength, gymnastics, agility, primal movement, balance, & more. PWR is not just a single workout it's arranged into a weekly, monthly & yearly schedule to maximise results.
Body Expert CLASSES:
Our classes are unique and industry leading. The classes are all designed and delivered with sound scientific fitness principles. There is no fluff… only effective workouts designed to achieve specific results. There are no "run of the mill" workouts… the evolution of fitness is here with Body Expert Classes!
PT – Personal Training:
We do not just train our clients. We take care of the whole person! Within the memberships personal training allows us to really focus on you. Give you the attention you deserve to ensure the specific components for your goals are being meet.You will constantly have a specifically designed workout for your needs with individual coaching. We constantly monitor, review and adjust your routine to ensure you get the results you desire.
Our One-2-One service is specifically designed to the individual and always works forwards improving functionality of the human movement system, optimal cell function and hormone balance for effortless fat loss, performance and vitality.