---
We do not just train our clients. We take care of the whole person! Transform Membership is a small group coaching membership. The membership enables us to offer personalised training at a more affordable price for you. Based on a CrossFit Box model but we utilise much safer exercise modalities that are also more functional movement based and user friendly. All with the effectiveness of private coaching.
The membership is designed to achieve ultimate fitness and body composition. Suitable for all levels and focuses on improving posture and movement capabilities while maximising fat burning and body shaping. Our membership also provides nutrition plans and coaching, fitness testing plus basic body composition monitoring to ensure you get the results you are looking for.
Our private coaching memberships are extremely cost effective and highly motivational. Memberships start from as little as $20 per week… For the price of one session with a Vietnamese personal trainer you can have 7 or more sessions including nutritional coaching from highly skilled international coaches.
OUR PROGRAMMING
Our programming is second to none.   We adjust everything to your individual level, so you will not be thrown in at the deep end when you arrive to workout!  Our programming is constantly evolving to get you the best results.
The culture of a gym is one of the most important things when both choosing a gym and in the journey of developing lifelong health and fitness. We aim to trade doubt for belief, trade sweat for strength and trade health for nothing.
FACILITY
Body Expert Studio is not a gym… we are a specialised functional fitness and fat loss private coaching space.  With over 24 years of experience working with professional athletes, international sports teams, government organisations and educational institutions – we know what works.  Top end facilities, top trainers, top equipment and the best body weight movement programmes. All this makes it easier for you to reach your goals in the safest most effective manner.
COMMUNITY
We pride ourselves on building a supportive and fun community. You are not just joining a premium fitness studio.  You become part of a community. Here you get support from the whole team.  Whether you want advice on your training, your nutrition or simply an ear to listen and confide in, your coach will be there for you.  If you get slack and stop showing up, guess who to expect a text/call from! Our coaches are committed to making your goals happen. This adds the element of accountability to ensure you experience a constant level of improvement, bringing you closer to guaranteeing results.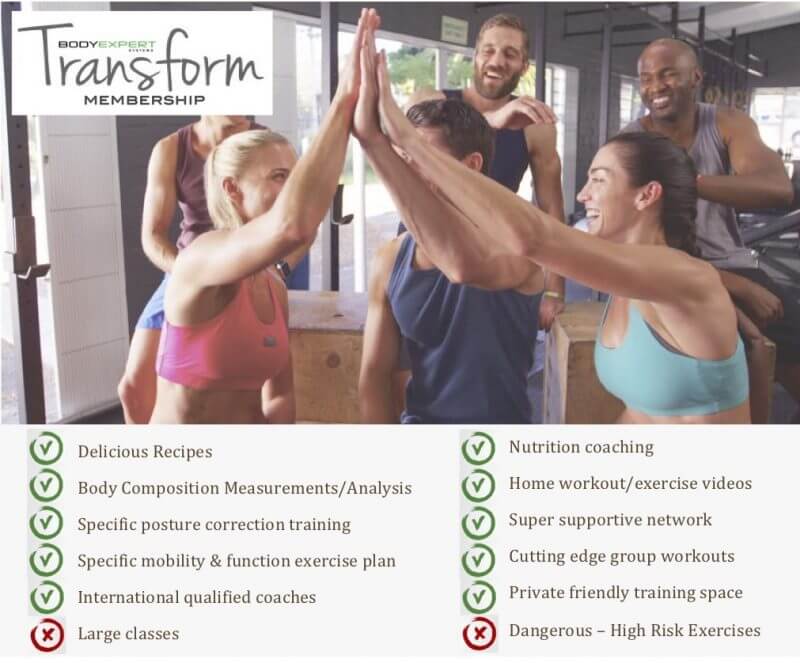 What membership includes:
Nutrition Coaching:
Your lifestyle and nutrition habits are key to optimizing your results, as these have the biggest impact on fat loss, sustainable energy, health and recovery from exercise.
No other facility in Saigon offers individualised nutrition coaching included in fitness memberships. We provide the principles, recipes and examples for all members. Diet plans and advice is delivered through group channels but discussed and adjusted personally to suit each individual.
We hold international specialised fat loss and performance nutrition qualifications:
Fitness Nutrition Specialist (NASM)
Hormonal Fat Loss Nutrition Coach (ME)
Metabolic Specialist (HLB)
Sports Nutrition (Uni. Waikato)
We know what we are doing. Our membership is designed to make health and fat loss coaching affordable and effective.
Body Expert CLASSES:
Full access to our unique and industry leading group workouts. The classes are all designed and delivered with sound scientific fitness principles. There is no fluff… only effective workouts designed to achieve specific results. Our workouts allow you to work at your own pace in a supportive environment. There are no "run of the mill" workouts… the evolution of fitness is here with Body Expert Classes!
Fitness Testing:
Without testing you cannot develop an appropriate, individualised exercise programme and you are also not able to evaluate if all your efforts are actually providing the best results. Testing, done for the right reasons, at the right time, in the right way, thoroughly, can have amazing benefits for your health and fitness efforts.
Our assessments are able to identify potential areas of health or injury risk, establish correct type and intensity of exercise, set motivational targets and enable you to track and evaluate 'true' progress from your health & fitness routine.
Body Composition Reviews:
Like fitness testing, tracking body composition allows you to understand if your efforts are giving you the results you really want. We are not in the business of selling sessions or workouts… we are in the business of achieving results. Through measuring body composition we can adjust your plan to be more effective for your specific requirements.
MEMBERSHIP PACKAGES:
We currently only accept 10 clients at a time to ensure you get the attention you deserve
1 MONTH:
VND3,700,000
(USD$40 per week)
3 MONTHS:
VND8,500,000
(USD$30 per week) 
To provide the level of service and coaching effectiveness we desire, memberships are limited. All workouts must be booked in advance, so we can prepare for your specific needs.
Join a community of likeminded people committed to and supportive of positive life change
These memberships are a fraction of the cost of One-2-One Personal Training but with the same or better knowledge transfer and coaching service
Contact us to sign up or ask more questions:
+84 9347 82763 (Coach Phil)