May & June Superfood Recipe #3: Avocado Salad Dressing
Fresh out of the Body Expert Systems Kitchen is our healthy and creamy Avocado Cilantro Lime Dressing. Salad and greens are super healthy and awesome for fat loss but it is hard to stay consistent while eating bland salads. So coach Jules went out on a mission to find and put together an awesome tasting dressing to liven up any salad… making health and fat loss taste good!
It´s our third avocado recipe from our superfood of the month series. Coach Jules favourite thing about avocados is their creamy texture and the fact that they are a super healthy source of fat and essential vitamins and minerals… especially magnesium.
Coach Jules comments:
So I finally realized how ridiculously easy it is to make avocado dressing and how seriously delicious it is!
One downside to normal creamy dressing is that they are loaded with calories and chemicals, which sort of defeats the whole purpose of eating a salad. Even a tablespoon or two on a conventional salad dressing can easily pack on at least a hundred calories. Yikes! Luckily, with this healthier alternative to creamy dressing, you can have your salad dressing and eat it too (get it?). Even though avocados contain fat it is such a natural healthy source that your body's auto-regulatory system will not store it as body fat and instead use it for essential purposes.
Try this healthier dressing on your next salad and I promise your salad will thank you.
Ingredients:
1 Avocado

1 clove Garlic, peeled

¼ cup roughly chopped cilantro

¼ cup low-fat sour-cream or greek yogurt

1 tablespoon fresh lime or lemon juice (or white vinegar)

3 tablespoons Olive Oil

¼ teaspoon Kosher Salt

¼ teaspoon Ground Black Pepper

 Water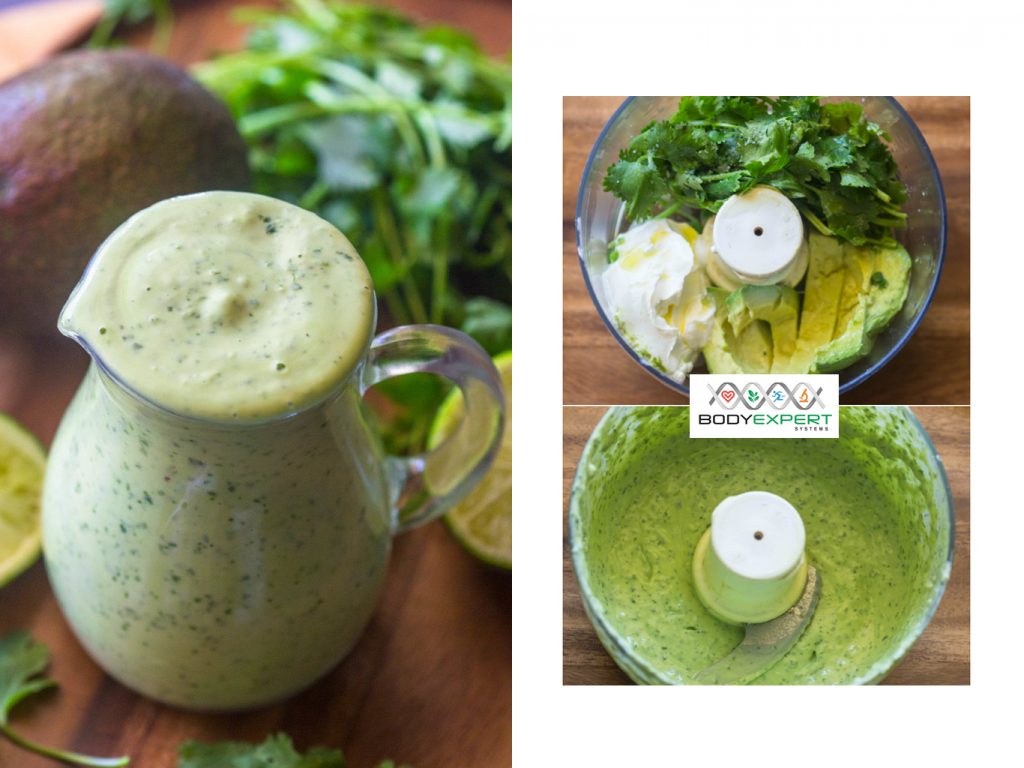 Instructions:
1. Place all the ingredients In a food processor or blender
2. Process until smooth, stopping to scrape down the sides a few times. Thin the salad dressing out with about ⅓ cup water (give or take) until it reaches a desired consistency.
3. Keep in an airtight container for 1-2 weeks.
Try it out & share
Stay in touch – Join our online and email community to keep up-to-date with our articles, recipes, workouts and awesome events