Ready to give your Banh Mi sandwich a little twist for the ones wanna eat healthier & getting leaner?!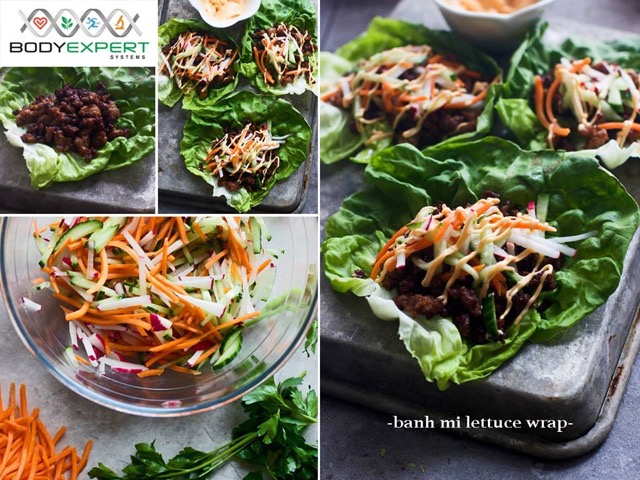 Try out BANH MI WRAP : Vietnamese Grilled Pork with Pickled Carrots and Mint!!!
All the flavours of a classic BANH MI sandwich in Lettuce Wrap form! Pickled veggies: in a bowl combine carrots, radishes, cucumber, coriander and mint. Season with Pink Himalaya Salt and Pepper.
Super easy to make & its perfect for breakfast, lunch or dinner. Give it try and let me know If you like the healthier version of a classic banh mi 😉
INGREDIENTS
Wrap:
fresh lettuce
fresh coriander
fresh mint
Pickled Veggies:
1 cup shredded carrots
¾ cup julienned radishes
¾ cup julienned cucumber
6 tablespoons rice vinegar
Pork filling:
1 pound ground pork
1 teaspoon sesame oil
1 teaspoon olive oil
4 teaspoons soy sauce
2 teaspoons fish sauce
1 teaspoon sriracha
6 pieces of boston lettuce
INSTRUCTIONS
Pickled Veggies:
In a bowl combine carrots, radishes, cucumber and rice vinegar. Season with pink salt and pepper. Let set while you make the remaining components.
Pork filling
Heat a large non-stick skillet to a medium-high heat. Add sesame oil and olive oil. Add pork. Break pork up with a wooden spoon and then cook until browned, about 7-8 minutes.
Once the pork is browned, add the soy sauce, fish sauce, sriracha. Toss together and cook another 1-2 minutes.
Assembly:
Fill each lettuce wrap, top with pickled veggies and drizzle with fresh coriander & mint.
Stay in touch – Join our online and email community to keep up-to-date with our articles, recipes, workouts, fitness training and awesome events