Healthy Eating Vietnam - Cauliflower Rice with Kale Pesto
---
This is the Body Expert Teams favourite starch alternative! Try this recipe for a delicious change to boring rice.
Cauliflower rice is flavored with homemade pesto sauce for an easy, delicious, low-carb and gluten-free dish. It's great to eat on its own or as a starch substitute for any meal. It's also easy to find inexpensive ingredients and make at home in Vietnam or wherever you happen to be.
You can use any kind of pesto for this, though I recommend a pesto that isn't basil-based. Bail pesto tends to brown quicker, especially when mixed with warm foods. For this one, I used my kale walnut pesto. But I can also see it working well with parsley, cilantro, carrot top greens, etc.
To see our awesome pesto recipes click here: 7 Perfect Pesto Recipes
INGREDIENTS:
3 cups cauliflower rice
1 tbsp olive oil
KALE PESTO
2 packed cups shredded kale, stems removed
1/3 cup to 1/2 cup extra virgin olive oil (start with 1/3 and add more if needed)
1 garlic clove
1/3 cup coriander
juice of 1/2 a lemon
3 tbsp chopped walnuts
pinch of pink salt and pepper
DIRECTIONS:
– Cut your cauliflower into the desired amount – then simply take your fresh raw cauliflower and put it into a food processor until it looks like rice texture
– Add oil to a large skillet and bring to medium heat. Add in cauliflower rice and cook until tender.
– To make the pesto, add all pesto ingredients into a food processor. Pulse several minutes until it reaches a thick sauce consistency. Pesto will initially be very chunky but will break down further into a sauce-like consistency after a few minutes. If it is not breaking down, add a little more olive oil until it can break down.  Taste and adjust as needed. Depending on the type of kale you use and personal preference you may want to add more coriander, oil, lemon, etc.
– Stir pesto into the cauliflower rice. Start with a few tablespoons and add more as needed until it reaches your desired taste. You may not need the entire amount and can reserve any unused pesto for another recipe.
– Serve cauliflower rice warm. It goes very well with any fish dish, salads or chicken dishes.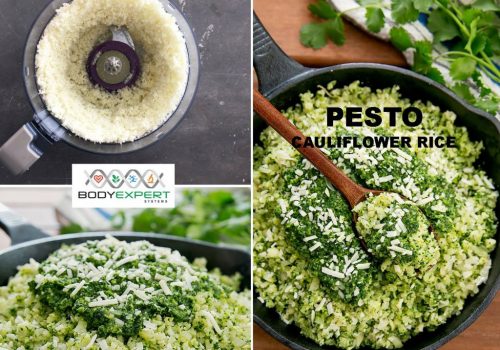 Stay in touch – Join our online and email community to keep up-to-date with our articles, recipes, workouts and awesome events