Healthy Eating – Beetroot Carpaccio Salad
Who doesn't like a quick light salad for lunch or dinner?! This Pickled Beet Carpaccio is a bright, refreshing salad for the hot weather here is Saigon, Vietnam. With lightly pickled raw shaved beets, watercress, crushed pistachio and a stunning horseradish cashew cream it tastes amazing and packs a super strong nutrient punch!
Beetroot or beets are highly nutritious root vegetables and superfood. The unique set of pigment antioxidants in the `root` in addition to the top nutrient rich 'greens' make beets highly effective in the protection against many diseases. Read more about why beetroot is so healthy here: Our favourite superfoods in part one of a previous post on our site.
For our beetroot carpaccio salad you don't even need a fancy dressing, just a drizzle of good olive oil and a squeeze of lemon. You better try it & let us know what you think. And don't forget to share it ✌🏻

Ingredients

For the pickled beets:
4 medium beets

1 1/2 cups water

3/4 cup apple cider vinegar

1/4 cup maple syrup

1 teaspoon sea salt

1 teaspoon fennel seeds

1 teaspoon mustard seeds

1 teaspoon whole peppercorns
For the cashew horseradish cream:
1 cup cashews soaked in 3 cups of water for 1 hour up to 24 hours.

2 teaspoons lemon juice

1-2 teaspoons horseradish

Pinch of salt

1/4 cup water

1 bunch watercress

Juice of 1/2 lemon

Olive oil for drizzling

1 tablespoon pistachio nuts crushed

Flaky sea salt

Feta cheese 
Instructions:
Using a mandolin, slice beets into paper thin rounds.

Bring water and vinegar to a simmer in a small pot. Add maple syrup, salt, fennel seeds, mustard seeds and peppercorns and continue to simmer for another 5 minutes or so. Place beets into a bowl and pour the brine through a sieve over the beets. Cover bowl and let sit for about 30 minutes.

While the beets are pickling, make the cashew horseradish cream. Strain the soaked cashews and add them to a high speed blender. Add lemon juice, horseradish, salt and water and blend on high until smooth and creamy in consistency. Add the mixture to a piping bag and snip off the tip if piping onto salad.

Strain beets from brine and divide among plates, arranging in a single layer. Pipe dollops of horseradish cream on top of beets and top with a large pinch of watercress. Drizzle plates with lemon juice and olive oil and finish with crushed pistachios, feta cheese and a generous pinch of flaky sea salt.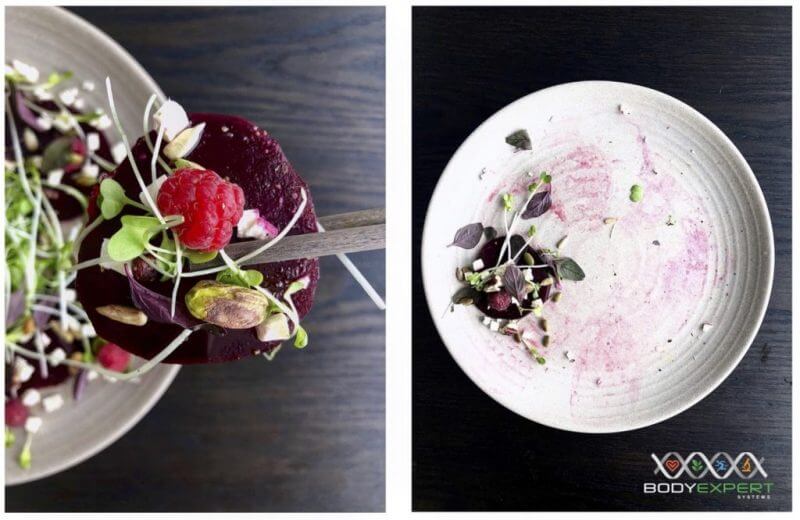 We love food! Health and lean should taste amazing!! We hope you try our recipes… so you can experience just how good health, lean and energising tastes  🙂
Stay in touch – Join our online and email community to keep up-to-date with our articles, recipes, workouts and awesome events