Beef stuffed zucchini boat with avocado dressing
---
Fresh Zucchini stuffed with a hearty meat sauce, topped with green beans mozzarella sesame and baked to perfection making this a delicious low-carb and gluten-free lunch or dinner! Healthy eating made super easy. 
Healthy Eating –
Another fantastic way recipe to keep up your healthy eatingThe zucchini boats are then stuffed with ground beef sauce and topped with mozzarella cheese and baked until the cheese is bubbly and the crust is cooked through. They store very well in the fridge or freezer and make a great take to work lunch too.
I used mozzarella cheese and sprinkled some sesame on top of it. Top with diced tomatoes, avocado, and/or cilantro and eat it with a fresh green salad. The best way to make it beyond healthy and delicious, create an avocado dressing.
Ingredients:
Zucchini Boat
6-8 medium zucchini
1 pound ground beef
1 cup of leek
1 cup of red or yellow pepper
1 tablespoon olive oil
½ cup onion, chopped
2 cloves garlic, minced
2 cup green beans
1 tablespoon Italien seasoning
¼ teaspoon salt
¼ teaspoon pepper
1/2 cup mozzarella cheese
1 cup of coriander or chives
Avocado Dressing:
1 big avocado
3 tablespoon of olive oil
1 tablespoon of greek yoghurt
1 cup of coriander, chives or dill
1 squeezed lemon
salt & pepper
( everything goes in a food processor)
Instructions:
Preheat oven to 375F. Slice zucchini in half, and carve them  out with a spoon. Chop the zucchini 'meat' and set it aside.  Line zucchini boats on a baking sheet lined with parchment  paper or lightly greased with oil.
Heat olive oil in a non-stick skillet. Cook onion for 2-3 minutes  or until it begins to golden. Ad the garlic and cook for a few  seconds. Add meat and cook until it's no longer pink, 3-5  minutes. Add the leek, green beens, red or yellow pepper,  zucchini pulp, italien seasoning and salt + pepper.  Simmer for 8-10 minutes.
Spoon mixture into zucchini boats and top each with a drizzle  of mozzarella cheese & sesame seeds. Bake for 15-20  minutes or until the cheesy is fully melted and bubbly.
TRY IT OUT & SHARE & feel free to leave any comments below, how your Beef stuffed Zucchini boats turn out.
Bon Appetite,
Your Body Expert Team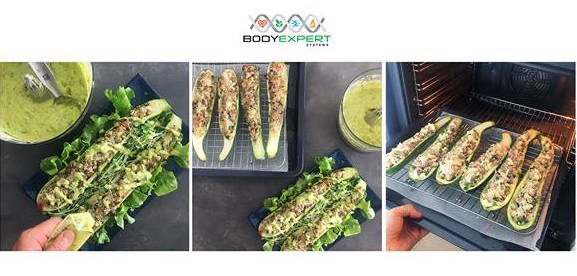 Stay in touch – Join our online and email community to keep up-to-date with our articles, recipes, workouts and awesome events